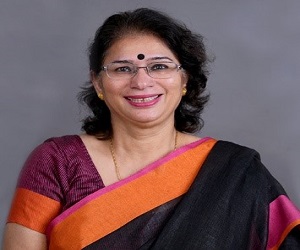 Member, MEPSC
Director K J Somaiya
Dr. Monica Khanna is the Director & Professor of Marketing at K J Somaiya Institute of Management, Mumbai and Dean – Faculty of Management Studies at the Somaiya Vidyavihar University, Mumbai. She is an experienced academician and professional with 29 years of experience in Academia and Industry. The area of specializations includes Brand Management, Services Marketing and Marketing Management. She has worked in the area of Engineering & Industrial Automation with Siemens Ltd, Mumbai. Dr Monica is member of the Academic Board, Board of Management, Finance Committee and Board for Research and Consultancy at the Somaiya Vidyavihar University.
As an academic leader and administrator at K J Somaiya Institute of Management, Dr. Khanna has focused on building technology led pedagogy like Bloomberg, Media Analytics Lab and Coursera for Campus along with several e databases, instrumental in launching niche MBA programmes like the MBA Healthcare (2018), MBA Sports Management (2020), MBA Human Resources (2020) and MBA Data Science and Analytics(2021), Case Research Centre (2021), building quality in management education through NBA accreditations, ISO 9001:2015 certification and the AACSB accreditation, which has now reached the final stage, international collaborations leading to enhanced reputation and Institute rankings like NIRF Rank 56 in both years 2020 and 2021. The Institute is now ranked among the top 10 private business schools in India and overall between 20th – 25th Rank on all India basis.
Dr. Monica Khanna has presented papers at various national and international conferences of repute, published in reputed ABDC category journals such as Journal of Business Research, Journal of Promotion Management, Journal of International Consumer Marketing, Journal of Marketing for Higher Education, South Asian Journal of Management, and has been involved with international research projects. Her focus areas of research are branding with focus on university branding, consumer behavior and emerging markets. She has been visiting faculty at IIT Bombay Shailesh J Mehta School of Management, NITIE Mumbai, DHBW Stuttgart, Germany and Institute of Industrial Management, Economics and Trade, St. Petersburg Polytechnic University, Russia. She has successfully guided three doctoral candidates from University of Mumbai and BIT Mesra, Ranchi. Dr Khanna is currently Ph.D Guide with University of Mumbai and Somaiya Vidyavihar University.
Dr. Monica Khanna has won several awards including the best research paper award at MICA Ahmedabad (Rs 4 lakh cash award), case study competitions in 2007 and 2008 with cash awards of Rs 1 lakh each year, held by the Aditya V Birla India Centre at the London Business School, awards for excellence in teaching by Bombay Management Association, Higher Education Forum, Somaiya Vidyavihar, and Y K Bhushan Award for 100 Most Dedicated Teachers of India. She is also an elected member of the Executive Council of the All India Management Association (AIMA), New Delhi for four consecutive terms from 2015-17 to 2021-23. Dr. Monica is B.Tech (Electrical), MMS (Marketing), Ph.D and NET (UGC).