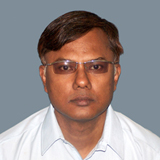 Member, MEPSC
National President, Indian Society for Training and Development (ISTD)
Dr. Ray, who is a Graduate in Science and holds a bouquet of professional qualifications viz., PG Diploma in IR&PM, LWO, PG Dip in Training & Development of ISTD  MBA (HRD), LLB  and Ph.D.,  started his career in 1984 as Management Trainee in the corporate world. He has experience spread over two decades in the fields of learning & development, Management Teaching, Industrial Training and HRD Manager in several industries specializing in Training & Development initiatives.
Dr.  Natraj Ray is a Life Member of ISTD and took over the position of National President in May 2019.  Prior to his election to the position of the National President, he was the National Vice President of ISTD. His association with ISTD is spread over more than a decade and he held many positions such as National Vice President, Regional Vice President (East),  Secretary and Chairman, ISTD Kolkata Chapter, National Council Member, ISTD Alumni. He also functioned as a Member of many important Committees of ISTD. at National / Regional level. Dr. Ray is also the Diploma In-charge of the ISTD Kolkata Chapter. In one way, he can be termed as a true ISTDian as he has risen through the rank and file of ISTD holding Chapter, State, Regional and National level positions and to the coveted position of National President.  He is known for his down-to-earth attitude in whatever position is held by him.
The professional activities of Dr. Ray were not limited to ISTD. He is a Member of the HR Sub-committee of CII.  He is a Life Member of NHRD & NIPM and is the Hony. Secretary of NIPM, Kolkata Chapter.  Earlier he was a Council Member of NIPM. Dr. Ray is functioning as a Member of the Labour Standing Committee of Bengal National Chamber of Commerce & Industries (BNCCI) and Bengal Chamber of Commerce, Kolkata. and State Productivity Council (Govt. of West Bengal) etc.
Presently,  he is working in a US-based organization (MNC – CRESMAC)  at Kolkata and is responsible for the entire gamut of operations of the Company in India in the fields of HR, LEGAL, IR, ADMN.