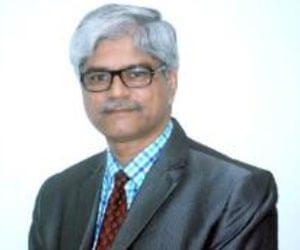 Chief of Capability Development, Tata Steel Limited
Dr. Shio Kumar Singh is an engineering graduate in both Electrical and Electronics branches. He has done his M.Sc.(Engg.) from the National Institute of Technology (NIT), Jamshedpur and Ph.D. under Electronics & Communication Engineering department from Vinoba Bhave University, Hazaribag, Jharkhand He has also completed "Executive Post Graduate Diploma in International Business" from the Indian Institute of Foreign Trade (IIFT), New Delhi,
Dr. Singh is an accomplished academician with rich industrial experience in Training & Development, design, implementation and development of Automation systems, large Telecommunication system maintenance & management, Electrical & Electronics maintenance, process improvement (Six – Sigma, TPM, TOC) in a distinguished career spanning over 35 years in various divisions of Tata Steel and held important positions. He was responsible for spearheading the implementation of process control (Level – II) system in production departments, and Marketing & Sales of Automation systems both in National and International markets. He is widely traveled and has visited various industries in America, Europe (France, Germany, Belgium, Netherlands, Luxemburg ), Turkey, Kazakhstan and South Asian countries (South Korea, China, Singapore, Taiwan, Hong Kong, Thailand) for study and marketing of process automation systems.
He has been a visiting faculty member and an external examiner for Electrical engg., Computer Science, and Electronics & Communication engineering branches at NIT, Jamshedpur, and BIT Sindri, Dhanbad, Jharkhand. He worked as an observer of Jamshedpur Centre for DOEACC examinations, Govt. of India, and was a counselor for computer papers at Jamshedpur Centre of Indira Gandhi National Open University (IGNOU).
Dr. Singh has published a number of papers in both national and international journals and has presented these in various seminars and symposiums. He is the author of several books for undergraduate and postgraduate engineering students such as Database Management System, Industrial Instrumentation and Control, and Process Control Systems published by Pearson Education, McGraw – Hill, and Prentice-Hall of India. These books are referred to in engineering colleges namely IITs, NITs, and other Deemed Universities.
Dr. Singh is attached to various technical and educational institutions and was Chairman of The Institution of Engineers (India), Jamshedpur Local Centre. He is a Chartered Engineers and also a Fellow Member (FIE ) of The Institution of Engineers (India). Presently he is Chairman of the Indian Society for Training and Development (ISTD), Jamshedpur Chapter, Executive Committee Member of Jamshedp ur Management Association (JMA). He is also representing as a member in The Associated Chambers of Commerce and Industry of India i.e. ASSOCHAM's National Council on Labour Affaires and Skill Development and member in the Eastern Region Sub Committee on Education & Skill Development of Confederation of Indian Industries (CII).
He has been conferred with the Eminent Engineer's and Distinguished Engineer's Awards by The Institution of Engineers (India) for his contributions to the field of Computer Science and Engineering.
Dr. Shio Kumar Singh is presently Chief of Capability Development, responsible for entire training & development (both functional /technical and management) of Tata Steel Limited, India.