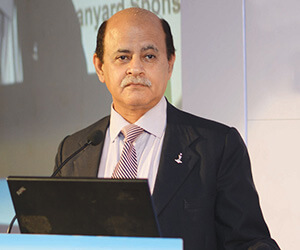 Member, MEPSC
CEO Telecom Sector Skill Council (TSSC)
Lt Gen Dr SP Kochhar is the CEO of Telecom Sector Skill Council (TSSC) after retiring as Signal Officer-in-chief.
The General Officer has had an illustrious career spanning almost four decades and has tenanted very prestigious Command and Staff appointments in the Indian Army. Lt Gen S P Kochhar was appointed as the 23rd Signal Officer-in-Chief on 01 Sep 2011.
Prior to taking over as the SO-in-C, the General Officer held the coveted appointment of additional director general of Personnel Services. During this assignment, he undertook several innovative measures to empower the entire cadre of the Indian Army so as to facilitate a second career post-retirement and to utilise their skills in the civil nation-building process. Project 'KSHMATA' with Microsoft, Project 'GYANDEEP' with IGNOU, Project 'SAMARTH' and signing of MoUs with leading banks of the country are some of his major contributions towards this goal.
The first-ever compendium of HR Policies and Court Cases was also produced under his tutelage, which is now often consulted in all Armed Forces Tribunals. The General officer also headed the Tri-Service Pay Anomalies Resolution Committee and has actively contributed in resolution of many 6th Central Pay Commission anomalies towards the benefit of pensioners and serving personnel.
He serves as an Honorary Adjunct Professor with IGNOU and BITS Pilani, chairs the Army IGNOU Academic Council and is a member of the Integrated Academic Council of IGNOU. He is on the Board of Directors of ITI Limited, Bharat Electronics Limited and Electronics Corporation of India Limited and is also a member of the working group on Convergence Communication and Broadband Technologies and the high-level committee on National Optical Fibre Network (NOFN). He has also been delivering talks on empowerment, leadership and team building in various forums both military and civil.
Highly qualified, he holds two MPhils and MTech from IIT Delhi, a graduate from Delhi University and is a fellow of IETE and AIMA, senior member of CSI and member of IEEE, C-DEP.
The General officer has to his credit some path breaking initiatives like the converged tactical data networks in deserts, video conferencing, networking in the mountains using sparsely held legacy equipment, protocol convertors, Multi RF Radio, Laser Radio and data warehousing.
He has published a number of papers on topical subjects and has also represented the country in international conferences on interoperability at Hawaii. His international exposure includes official visits to the US, Europe, Africa, and SAARC Countries.
The General officer has successfully done the prestigious National Defence College Course, the Higher Command, Senior Command, Technical Staff Officers Course, Advance ADPS and various other professional courses with aplomb. He has also had a grounding in management from Management Development Institute, Gurgaon and College of Defence Management, Secunderabad.
In recognition of his distinguished services and path breaking initiatives, he has been awarded the Ati Vishisht Seva Medal and Bar, Sena Medal and Vishisht Seva Medal by the President of India. He has been made the Honorary ADC to the President of India from 01 Jan 2012.