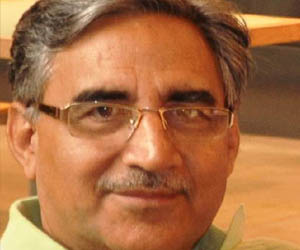 Management Consultant & Trainer
Mr. Ashok K. Bhat obtained his Master's Degree with a specialization in Personnel Management & Industrial Relations, from Delhi University. He has, in addition, received training in faculty development at IIM-Ahmedabad. Ashok was a British Council Scholar at Templeton College, Oxford University, UK, where he completed a long duration course in Advanced Human Resource Development. He is also an alumnus of London Business School, UK, where he attended the flagship program of the school, namely Accelerated Development Programme. He has also completed the Balanced Scorecard Professional Certification Program of Balanced Scorecard Institute, USA and George Washington University.
Mr. Ashok spent his early years in the energy industry in a human resource management function, and among other roles, was a key member of the nucleus team which anchored the HRD action research program during the 1990s. To pursue a career in consulting and teaching, Mr. Ashok joined Feedback Ventures (currently known as Feedback Infra) in 1998 as Executive Director where he headed the HR consulting and training practice. He is currently Director of MindShare HR Consultancy Pvt. Ltd.
Set up in the year 2002, MindShare was incorporated as a private limited company. Promoted by Mr. Ashok, the company does niche work in organization review and HR strategies and systems.
Mr. Ashok has more than three decades of experience in anchoring a large number of initiatives in HR systems and processes, change management, training and development, organizational diagnosis and redesign across private, public, government and non-government organizations. Some of the organizations where he has handled consulting assignments include Indian Oil Corporation, RITES, CASA, HCL, C-DOT, HLL, Metzeler, Grasim Industries, Indian Newspaper Society, SCOPE, Wildlife Trust of India, TERI, etc. He has also been involved in anchoring organization development initiatives in the Health Sector in the states of Uttarakhand and Madhya Pradesh and the Power Sector in Assam.
The assignments handled by Mr. Ashok include the redesign of strategy led performance management systems, role profiling, multi-rater appraisal for leadership development, design and facilitation of assessment centers for identification of talent, psychometric testing for recruitment of scientists, training needs identification and transfer of learning, job evaluation, review of compensation structures, career planning and promotion policies, employee engagement surveys, organizational review, cadre restructuring, etc.
Mr. Ashok is a visiting professor/guest faculty in the area of human resource management at IIM-Lucknow and International Management Institute (IMI). The courses he has taught include, Performance Management, Competency Mapping and Assessment Centres, Training and Development, Human Resource Systems and Processes, Strategic Staffing, etc. He has recently taught a course at IMT, Ghaziabad, namely HR Measurement & Analytics.
Over the last three years, Mr. Ashok has also been involved as a faculty in the on-line program of IIM-Lucknow on Human Resource Management and in the Institute's many Management Development Programmes including Evaluation of Training, Competency Modeling, HR Audits, Strategic Staffing, HR Analytics, Balanced Scorecard, Performance Management, Conflict Resolution, etc.
Mr. Ashok has an abiding interest in training and development and has wide-ranging experience in designing and facilitating training programs which among others, include managerial effectiveness, personal effectiveness, competency modeling and assessment, coaching and mentoring, team building, effective communication, training for trainers, strategic HR, HR for line managers, etc.
He is actively associated with the Indian Society for Training and Development (ISTD). He has been its past Vice President (North), Chairman (Delhi Chapter), Vice Chairman (Diploma Programme Committee) and Member (Research and Consultancy Committee). He has also been on the panel of judges constituted to evaluate organizations in India for the best HR practices award.
Mr. Ashok was commissioned by the International Labour Organization (ILO) to research and compile the country report on industrial relations in Petroleum and Oil companies in India. He has recently authored a research-based report on Performance Management Practices in 13 Public Sector organizations in India on a research grant provided by the ILO and Standing Conference of Public Enterprises (SCOPE).
Mr. Ashok has widely traveled through Europe including the UK, France, Germany, Spain, etc. and South East Asia in connection with Educational and Professional pursuits.