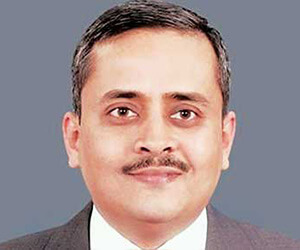 Director, MEPSC
Group Chief Executive Officer, UK India Business Council
Jayant Krishna is the Group Chief Executive Officer of the UK India Business Council (UKIBC), secretariat for the British Prime Minister and the UK Government in bilateral economic deliberations with India. He has led key initiatives of the Prime Minister's Skill India mission as CEO, and Executive Director & Chief Operating Officer of the National Skill Development Corporation (NSDC). Prior to serving in government, he was with the Tata group, India's largest conglomerate, for over two decades.
At Tata Consultancy Services (TCS), he served as Director, Life Sciences & Healthcare (UK & Europe), Regional Director (UK & Ireland), Regional Manager in London, Global Delivery Centre Head in India, and Global Relationship Manager for one of TCS's top 5 strategic accounts worldwide, based in London. His portfolio included clients in the US, Canada, UK, EMEA, and APAC. At a division of Tata Sons, he executed World Bank, UNICEF, and UNFPA-funded management consulting interventions. As Senior Fellow at the Center for Strategic and International Studies (CSIS), Washington, DC, and Executive Director, Public Policy at Silicon Valley nonprofit WF, he focused on Indian economic reforms and US-India bilateral business ties.
Jayant championed apprenticeship reforms in India, played a pivotal role in shaping the Apprentices (Amendment) Act, 2014, and served as Chairman of the Government of India (GoI)'s Special Taskforce on Apprenticeship Rationalisation. He supported key economic and sectoral reforms and served on various GoI committees. He co-convened the Employability Taskforce of India's Planning Commission and was involved in the NSQF's evolution and the formulation of India's 12th Five Year Plan.
He has chaired the Confederation of Indian Industry (CII)'s India@75 Taskforce on Skills & Entrepreneurship and led its Taskforce on Apprenticeship Reforms. He drove wide-ranging policy reforms and interventions, working closely with the Advisor to the Prime Minister of India on Skill Development. He served as India's Official Delegate to WorldSkills International and on the India-EU Skills Committee and the National Skill Development Agency's Governing Body.
Jayant was awarded the British Chevening Scholarship by the UK Government in 1997 and received the APJ Abdul Kalam Award for Innovation in Governance in 2016. A Fellow of AIMA and CSI, he is on the Board of Directors of Indian companies and the NIIT Foundation's Board of Advisors. A Distinguished Professor at JIM, he served as an Adjunct Professor at IIT Kanpur, and on the Boards of various institutions.