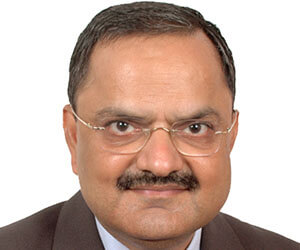 Advisor and Expert-Training / Consultancy
Sanjiva Dubey is a unique blend of IT Industry Leadership and Academics excellence.
He was the Asia Pacific Executive of IBM IT operations across 17 countries till recently. He was the first Indian to hold that position. He is also credited to set up IBM Consulting and Services Business in India 1995-2009. As Principal Of IBM consulting he led over 100 consulting assignments with Indian mega corporations, PSU, Govt departments, banks and health care institutions. As Project executive, he was responsible for Multi B USD and Bharti Airtel Outsourcing projects. His other career milestones include CEO of Raffles Solutions, Bhilwara Infotech and long initial tenure with Tata Steel till 1995. He has over 35 years of industry experience in IT, Steel and automobile Industry.
He takes a keen interest in sharing his expertise with students in the academic world as Visiting faculty, seminar leader, mentor and guide. He has taught 40+ courses in the last 25 years at IIM Indore, Lucknow, Rohtak, FMS Delhi University, XLRIJamshedpur, NIT Jamshedpur, IMT Gaziabad, MDI Gurgaon, AMITY, BIMTECH Greater Noida and 100+ seminars/ industry academics sessions. He in on the board of academic advisory of several Business Schools and Mentored 1000+ startups under the Nasscom entrepreneurship development program 2010-14.
He has authored 8 textbooks including one edited one on Corporate Employability skills (2016). His book Innovation with It was adjudged the best management book in 2008 by ISTD.
Earlier he pioneered IT education introduction in Schools 1984-90 and conducted IT education for nationalized banks 500 bank employees in and around Jamshedpur Jharkhand under the aegis of the Computer Society of India. He was also appointed an external examiner of DOEACC A level examinations, ICSC board, Ranchi, Delhi and Amity University. He was entrusted to bring IT culture for 60000 employees of Tata Steel through training programs, CBT courses and setting up computer labs 1986-94.
Education:
Post Graduation From XLRI Jamshedpur (amongst top 4 B School in India)
B Tech from NIT Jamshedpur (amongst top 12 Engg college in India)
PG Diploma in Steel plant operations by SNTI, Tata Steel
Certified Management consultant and Project executive from IBM.
Annexure A
Books Authored by Sanjiva Dubey
Innovation with IT by McGraw Hill adjudged the best management book 2008 (ISTD).
IT Strategy and Management, 2/E PHI learning, 2009
Winning in the Global Economy, by McGraw Hill 2010(Co-Author)
IT Services Business management by PHI learning 2011
Management and IT consultancy by McGraw Hill Education, 2012
Cloud Computing and beyond by IK publishing 2012
Life is Limited Live Unlimited by Bloomsbury 2014
Corporate Employability skills, by CEGR (Co-edited ) 2016
Book Chapters
Chapters in the book Entrepreneurship: Learning and Implementation ISBN-13 9789385000188 and ISBN-10 9385000187 published by Publisher Centre for Education Growth and Research. Chapter titles are

Creativity and Innovation Management
Building Sustainable Business models
Chapters in the book

Innovative Trends in Marketing in the New Millennium published by LBSIM
Beyond Norms IT for Business Excellence published by IMT Ghaziabad