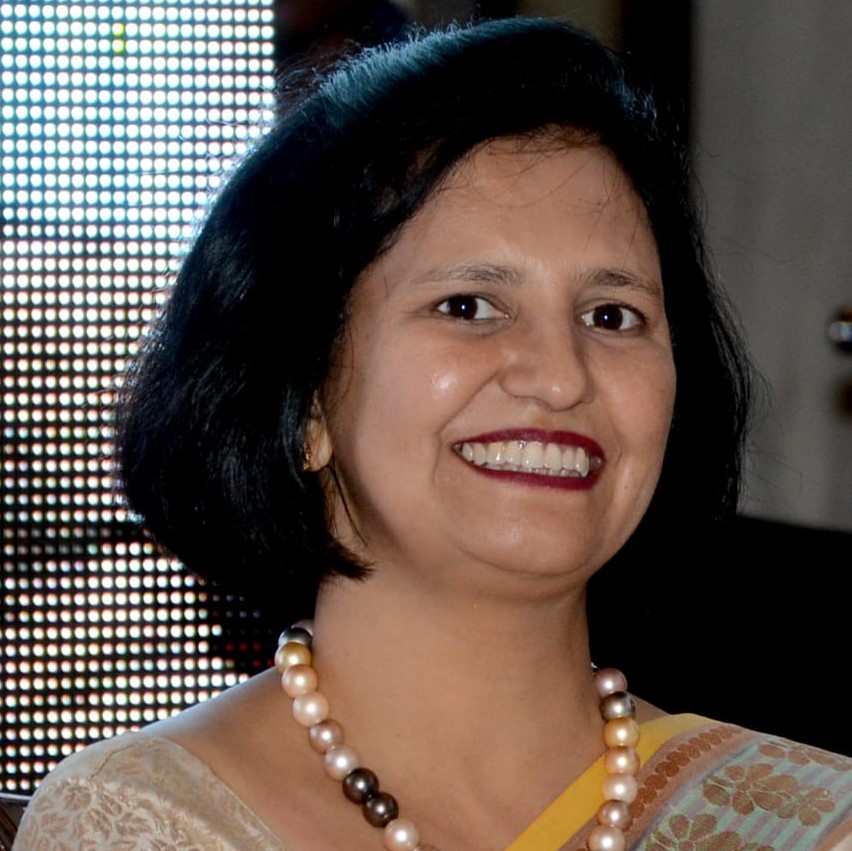 Anita Chauhan
National President – Indian Society for Training & Development
            Board Member- IFTDO (International Federation of Training & Organizations)
Member-Committee for Women Empowerment | Coordinator – CWE(Asia) IFTDO
Founder – Kota GyanDwar Education Society | Owner and Founder – EcoDeall
Social Entrepreneur | Free Lance Trainer | Orator | Training Aggregator | Emcee
Former Chairperson –  Indian Society for Training & Development , Kota Chapter
Former Regional Vice President  NORTH – Indian Society for Training and Development
Former Executive Territory Manager – Reliance Life Insurance Company Limited
Former Deputy Area Manager – Bajaj Allianz Life Insurance Company Limited
Miss Anita Chauhan is a dynamic professional with more than 2 decades of professional experience having versatile proficiency in the field of Education, Training & Development, Strategic Planning, Human Resource Development, Sales & Marketing, and Business Development & Relationship Management.
National president of ISTD for 2022-24. Her connect with people, fierce & assertive style of leadership made her the most admired leader in the fraternity. She is people's person who rule the hearts of people around with all the humility & humbleness in her conduct.
People's faith in her leadership is evident from the fact that consecutively for 8 successive years (2014-2022). She has been elected unanimously as the chairperson of Kota chapter of ISTD. Under her abled navigation Kota chapter was awarded as the "Best Small Chapter" in the year 2014-15. She has lead ISTD in the capacity of Vice President(North). Her sincere & dedicated contribution towards ISTD were recognised and she was awarded as "Best Member" of ISTD.
She is well known for her innovative, creative and result oriented approach that is evident in her association with top notch organisations. Her ease with converting complex to simple and transforming the organisation while implementing corporate strategies. Her exemplary communication & interpersonal skills provide her an edge to design effective and target oriented promotional & marketing strategies.
Ms Chauhan begun her professional journey as a school teacher and rising up to the status of handling entire gamut of administration of the school. A 360 degree change in her professional journey, she ventured into corporate and joined insurance sector in the sales department at Bajaj Allianz Life Insurance Co. Ltd. And rising to a level of Executive Territory Manager at Reliance Life Insurance Ltd. She was awarded as "Best Profit Centre Maker" for setting 10+ branches as profit centre.
Her calling to do more worthy & contribute towards betterment of society, she started an institution "Kota Gyandwar Education Society" in the year 2013 at Kota Rajasthan. Kota GyanDwar Education Society is a non-governmental organization dedicated in the pursuit of Empowering and Enabling people so that they may self-actualize to contribute in the nation building along with finding their own space in society to lead a fruitful and productive life.  The NGO works to eliminate inhibitions from the minds of differently enabled   persons and provide them with a respectable status in society. As an effort to contribute more towards the society, she encourages and trains healthy living besides promoting women entrepreneurship and empowerment.
Ms Anita Chauhan has been associated with a number of social organisations at Kota (Rajasthan) and is a founder member of ISTD, Kota Chapter since the year 2007. She served as Vice President of the Kota Development Forum and also an honorary member of   Lok Adalat. She has been instrumental behind having a woman wing of Bharat Vikas Parishad Rani Lakshmi Bai Shakha in Kota. Being a water warrior -, creating awareness among general mass for water conservation as a Vice Chairperson of Chambal Sansad and Member of Jal Biradari.  She is a member of Eye Bank Society of Rajsthan, Kota Chapter and closely working and spreading awareness for eye donation and Coronial Transplantation and her efforts are recently been awarded by EBSR and Kota Division of Ophthalmological Society.
She has been recently awarded for her exemplary services during COVID 19 Pandemic by Loksabha Speaker Shri Om Birla and   District Collector of Kota city. She credits with the award of Kota Ratna and is also nominated as a brand ambassador of Swatch Bharat Abhiyan at district level by the Mayor, Kota city. She has also been a force towards introducing the concept of electric cremation in the city of Kota during her term at Kota Development Forum. She also keeps on contributing towards various movements of environmental conservation and plantation activities. She has initiated various activities/talk shows/movements for the Smart city development and demand of New Airport at Kota. She is the life member of Eye Bank Society of Rajasthan and the Insurance Institute of India.
She is dual degree post graduate in Sociology & Public Administration from MDS University Ajmer and a graduate in humanities. Being ahead of the time professional she completed her diploma in Computer Applications and website development. Her perfectionism reflects in her moves as an established kathak dancer.
Blend of modern yet traditional values makes her unique trainer, social entrepreneur and a dynamic leader who has contributed to diversified range of services for multiple sectors of society. Her endowment has been widely accepted and recognised by local & regional media. She is literally a soldier fighting for comprehensive social issues and providing holistic solutions at all levels.