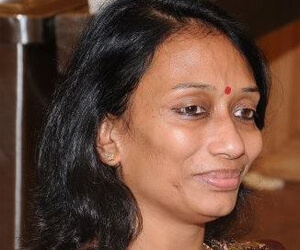 Chairperson, Women Entrepreneur Cell, IamSMEofIndia ; Master Trainer at Ministry of MSME, NIESBUD, IFC
Master Trainer at Ministry of MSME, NIESBUD, IFC
She is the Chairperson, Women Entrepreneur Cell, IamSMEofIndia, the largest, most credited and fastest growing MSME body in India. She is also an executive council member at Haryana State Productivity Council.
Mrs. Jaya Goyal completed her Graduation from Sophia Girls College, Ajmer with merit throughout and then her PGDBM from DAV Managing Committee, New Delhi.
She started her career with a stint in Concept marketing with her father in setting up a Japanese and German plant for garment Industry. After which she got into Academics and has found her keen interest in being a trainer/facilitator for Life/Organization Improvement Skills.
She is an avid reader and learner of the Psyche of human beings and their adaptation in an organization. She has also cleared BHLP, human lab conducted by ISABS, Indian Society for Applied Science.
She is a member of NHRDN, National Human Resources Development Network and FMA, Faridabad Management Association, Faridabad wing of AIMA.
She is a certified trainer for "workshop cooperation" by SCORE, an ILO initiative. She is one among the very few international certified IFC-NIESBUD Master Trainer in the country by International Financial Corporation (World Bank), NIESBUD (NSIC) and Ministry of Skill Development and Entrepreneurship.
She has initiated Craft Cafe Online, a social venture by a few members of Women Entrepreneur Cell to support and sustain artisans, to promote women entrepreneurship and to involve next generation in keeping India's heritage and culture alive and has recently initiated 'Akshay Swachh Jal Water ATM' which believes in 
One line that she lives with: 'I know, we will…..'