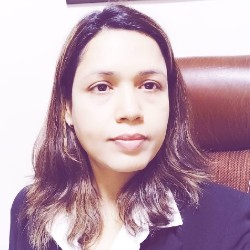 Ms. Nisha Singh
Sr. Manager-Assessments & Certifications
Ms Nisha Singh has over 9+ years' of experience in Learning & Development by working towards enhancing skill effectiveness in line with the organizational development and learning strategy across industries. She is Proficient in providing end-to-end solutions from Concern Validation Study to customized content development and training delivery to Organizations.
She is adventurous in Research and development with a definite visual sense, excellent writing skills, and the strength to interpret marketing ideas and design concepts across all organizational levels. She implements her Impeccable ideas for improvising content that not only meets but exceeds client business goals. She is Passionate about cultivating relationships and leading projects that empower both clients and creatives. With a high positive attitude, She is Best at Situation Leadership, Channel Management, Team Building, Customer Relationship Management & Presentation skills. Industries She has catered to Skill Development, Publication, Education, KPO & BPO.
Her Involvement ranges from entry level, middle management to top management levels in different Organizations. In her prior roles, she was developing strategies for content delivery via Technology by Launching multiple websites & Social media posts. She was also responsible for developing content architecture and strategy for offline assessments and websites, resulting in delightful user experiences.
She holds a dual degree of Masters in Business Administration in Finance & Marketing from Pune University and a Diploma Certification in Basic Level of French language from Symbiosis Institute of Foreign and Indian Languages (SIFIL), Pune.