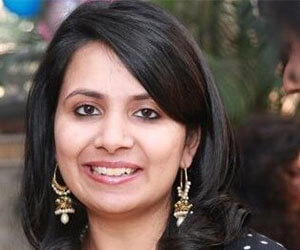 Chairperson, MEPSC Entrepreneurship NOS Committee; Chairperson, Confedration of Women Entrepreneurs (COWE)
CEO & Managing Director -KGS Advisors LLP
Chairperson – COWE India, Delhi Chapter (Confederation of Women Entrepreneurs)
Member, Governing Council, NIESBUD – Ministry of Skill Development and Entrepreneur
Founder – StemED Member, Governing Council, Indian Council for Human Relations
Founder – Gvriksh (go – green with Gvriksh)
Chartered Accountant and post graduate in law with wide experience in business and financial advisory for various multi-national organizations such as PwC Grant Thornton (GT) World Bank (on behalf of GT) etc comprising due diligence reviews assisting clients in identifying post-acquisition/integration issues forensic audits statutory & internal audits and other business advisory services. Experience includes various multinational foreign and domestic clients spread over a range of industries and been involved in a number of cross border transactions both outbound and inbound on behalf of strategic and financial investors. Tripti also does a lot of work for private equity clients in India and also co-ordinates for TS India's efforts for private equity clients.
On a functional basis, Tripti works across the deal continuum with a focus on due diligence. Her experience includes assisting in an assignment of fraud investigation with World Bank D.C officials. In addition to this Tripti's experience includes two years of involvement in statutory audits internal audits and various other special assignments
Tripti is a first-class graduate in Commerce from Delhi University (Shri Ram College of Commerce) and is an associate member of the Institute of Chartered Accountants of India. She has also done her Master of Business Law from National Law School Bangalore. She has written articles and conducted seminars organized by the Institute of Chartered Accountants of India. Tripti is also a member of the Institute of Internal auditor Florida and the Association of Certified Fraud examiner. She is a secretary of Gvriksh which is a nonprofit organization for promoting tree plantation. She is a Chairperson of the Confederation of Women Entrepreneur, North. She is a founder of a promoter and mentor club for young entrepreneurs to provide spontaneous and quick solutions for the challenges.
Tripti is also a governing council member of NIESBUD & Indian Council of Human Relations.
Select credentials include:
Ashoka Buildcon Limited
JHS Svendgaard Laboratories Limited
Carzonrent India Private Ltd.
Kiri Dyes and Chemicals Ltd
Isuzu Motors limited
Anand Nishikawa Co.
Innodata Pvt Ltd
Ranbaxy
DLF services limited
World Bank
Maruti Udyog Limited