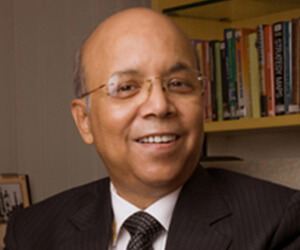 Member, MEPSC
Co founder-The Open EdWork (TOE), Former Vice Chancellor NMIMS (Deemed University) & Former Director IIM Indore,& SPJIMR, Mumbai
Rajan Saxena is an Indian management expert, academic, writer.
He is a former Vice-Chancellor of the SVKM's NMIMS, a deemed university in Mumbai, a former Director of Indian Institute of Management, Indore, S. P. Jain Institute of Management and Research and ICFAI Business School, Gurgaon. He is also a recipient of the BERG Education Award for 2014.
Dr. Saxena, who set up the IIM-Indore as its first Director, took over as Vice-Chancellor of NMIMS in 2009. Under his leadership, NMIMS improved its tie-ups with reputed foreign universities and was also invited by GMAC to be its member. Dr. Saxena was instrumental in establishing the School of Economics and School of Law and other NMIMS campuses at Bengaluru and Hyderabad.
Dr. Saxena also contributed to making NMIMS degrees more contemporary and industry-relevant. During his previous tenure as VC, he was instrumental in transforming students' experience by focusing on the holistic development of graduates through both Class Room and Non-Class Room processes including field projects & soft skills, etc. He focused on enhancing the quality of programs and their delivery. Faculty development assumed high significance in his leadership. Making the admission process transparent by introducing computer-based tests, which were psychometrically validated, helped change the quality and profile of the incoming student batches across all schools and programs especially at the School of Business Management. Dr. Saxena ensured significant improvement in the competitive position of each school of NMIMS.
On his re-appointment, Dr. Saxena shared his vision for the next tenure and said, "Completing the unfinished agenda of last Strategic Plan would be top on my priority list. It includes Research Output Enhancement, Internationalization of students & faculty community and getting Global Accreditations.". He also shared his plans to introduce new schools for Entrepreneurship, Public Policy & Social Change, Media & Mass Communication, Liberal Arts and Leadership & Faculty Development.